SALE: 4 Feb 10:30 am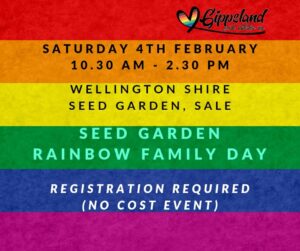 Join us for a very special day at Seed Garden in Sale, and enjoy wood-fired pizza, live music and much more!
Location: Seed Community Garden, Montgomery St, Sale VIC 3850
This is a secure event, so we ask all ADULTS to please individually complete this form. Spaces are strictly limited and registration is required.
There is no cost to attend or participate.
A special day in the Community Garden (Seed Garden) in Sale, for LGBTQIA individuals and Rainbow families and our allies from 10.30 am – 2.30 pm. Participate as you wish in a range of activities – get your hands dirty, enjoy a wood-fired pizza lunch, live music, and much more.
Children in attendance are the sole responsibility of their parents and guardians, and we ask that this is considered, as any unnecessary or unmanaged risk-taking behaviour may result in your departure from the event.
CONSENT AND CONDUCT
– Respect each other and yourself
– Poor behaviour will not be tolerated
– if you are taking footage or photos, you MUST gain consent prior to and again after, before posting to social media or sharing.
Please note we welcome members of emergency services to join us, including those in uniform.