NEWHAVEN: Thursday 2 Feb 5:30 pm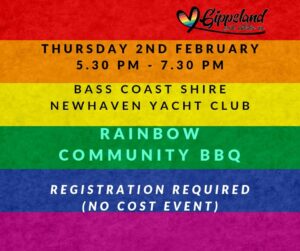 Join us for our Rainbow Community BBQ Dinner on Thursday 2nd Feb at Newhaven Yacht Club!
Location:  Newhaven Yacht Club BBQ Area, Seaview Street, Newhaven VIC 3925
Spaces are strictly limited and registration is required.
Kicking off at 5.30 PM for Dinner at 6.00 PM, join us for a beautiful BBQ Family Dinner at the Newhaven Yacht Club. There is No Cost to attend thanks to the support of Midsumma Festival and Uniting Vic Tas.
Registration: This is a secure event, so we ask all ADULTS to please individually complete the registration form – children can be counted in the questions below.