TRARALGON: 11 Feb 12 noon at 'Gender Affirming Clothes Swap'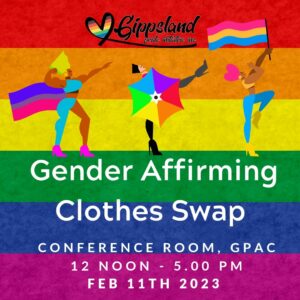 You are invited to this first-ever gender-affirming clothes swap in Gippsland.
Location: Gippsland Performing Arts Centre – Conference Room), 32 Kay St, Traralgon VIC 3844
Registration: Registration is not required.
Bring along any new, near new or gently worn clothing, accessories or shoes you no longer use, and contribute it to our team to include on our tables and rails  OR come along to grab some fun new clothes. The Gippsland Pride Initiative Clothes Swap is intended as a clothing resource and safe space for trans, non-binary and genderqueer people, being held for the first time as part of the Gippsland Day Out Festival.
There's no charge, but there'll be a card reader and donation pot for anyone who wants to contribute to Gippsland Pride and our Gender affirming wardrobe running costs.
It is first come first serve, and you are invited to take what you need. we simply ask that you house conservatively so others may benefit too. We do not ascribe gender to the clothing we stock, so everything will be categorised by type (jumpers, coats, dresses, trousers, etc) and size (as much as that's possible in a rummage-based clothes swap situation).
There are gender-neutral toilets nearby in the Little Theatre where you can try things on, as well as internal wardrobes supervised by our team. A team of Gippsland Pride Initiative Committee and friends will be on hand to help and support yo