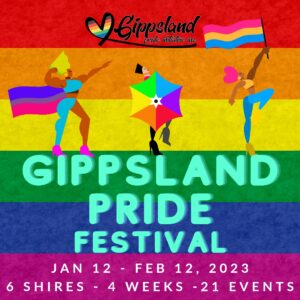 Join us for the launch of the Gippsland Pride Festival, streamed live from the Gippsland Performing Arts Centre on January 12th 2023!
All the effort, blood, sweat and tears are slowly making a change and we are feeling renewed hope going into 2023. We know there's work to do, maybe more importantly than ever.
And it BEGINS here – after 3 very difficult years for us all, we are launching one of Victoria's Largest Pride Festivals (both geographically and logistically). 6 shires, a few thousand kms, 4 weeks and 21 individual low and no-cost events for LGBTQIA+ Gippslanders, families and communities.
Gippsland's 1st Pride Festival
It's all possible thanks to seed funding from
Midsumma Festival
and support from a range of amazing sponsors and partners.