MIRBOO NORTH: Saturday 21 Jan 3 pm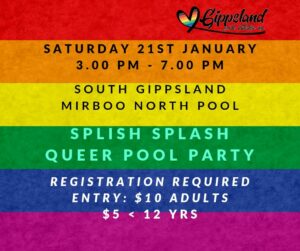 Join us for SPLISH SPLASH – Queer Pool Party at Mirboo North this Saturday afternoon from 3.00pm – 7.00pm!
This is a secure event, so we ask all ADULTS to please individually complete this form (Registration is required for entry) – children can be counted in the registration.
Hosted by Frock Hudson, this very special event is for ALL BODIES, ALL AGES – Queer community in all our beautiful forms, good tunes and good times. Join other LGBTQIA folk together for a lovely Saturday swim with your friends and family – with plenty of undercover area and cool water, music and good times together. Bring your snacks, chairs or picnic blanket for a relaxing lovely afternoon by the pool together. There is a minimal cost to attend thanks to the support of Midsumma Festival and Uniting Vic Tas.
$10 per Adult
$5 per person 12 years or under
Cash at the door would be appreciated
Spaces are strictly limited and registration is required
Lifeguards are on duty
The pool has been secured for our privateuse
Children in attendance are the sole responsibility of their parents and guardians, and we ask that this is considered seriously, as any unnecessary or unmanaged risk-taking behaviour may result in your departure from the event. Please note we welcome members of emergency services to join us, including those in uniform.
CONSENT AND CONDUCT
Respect each other and yourself
Poor behaviour will not be tolerated
If you are taking footage or photos, you MUST gain consent prior to and again after, before posting to social media or sharing