MELBOURNE: 5 Feb 5:15 am departure from Traralgon Train Station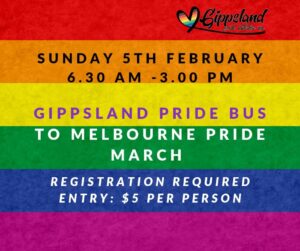 Gippsland Pride are excited to host the Pride Bus to PRIDE MARCH!
Location:
Cost: Tickets are at a low cost of $5 each way ($10 total) thanks to the generous support of Uniting Vic Tas
Register: Online
Departing from Traralgon Train Station at 5:15 AM (Sharp) our privately hired buses (not for general transport use) are travelling along the highway with stops at:
Traralgon
Morwell
Moe
Trafalgar
Warragul
BP Officer (toilet stop)
then driving directly to Fitzroy Street St Kilda, with an estimated arrival time of 9 am so you can enjoy watching the March or walking in it from the very beginning.
IMPORTANT BUS INFORMATION
There are other festivities outside of these times, but we have scheduled this return bus to either side of the March – if you wish to stay on in Melbourne for the festivities, these will go beyond our return travel and you will need to find alternate transport.
It is Attendee's responsibility to be at the designated pick-up points by the departure time, and you will need to make alternate arrangements if are not at the pickup point at departure time – we will leave promptly as scheduled.
We ask you to arrive at your pick-up point 15 mins prior.
Children must be accompanied at all times and the responsibility of their guardian.
Poor behaviour will not be tolerated and alcohol is not permitted on the bus. Poor behaviour or consumption of alcohol may result in your transportation discontinuing without refund or further service.