BAIRNSDALE: 14 January 8am
Join us for Rainbow Families Breakfast BBQ at the Park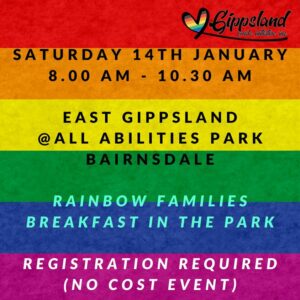 THIS SATURDAY in Bairnsdale!
Location: BAIRNSDALE ALL ABILITIES PLAYGROUND/BBQ AREA
9 Main St, Bairnsdale VIC 3875
This special event includes a beautiful BBQ Cooked Breakfast and Playtime on the park for the kids before the heat kicks in. Join other LGBTQIA folk together for a lovely Saturday morning – with plenty of undercover area and cool water, yummy food and all-abilities playground facilities. Bring your chairs or picnic blanket for a relaxing lovely breakfast morning in the sun together.
Registration:
This is a secure event, so we ask all ADULTS to please individually complete this form below, Please comment in your form if dietary restrictions extend also to the young people joining you!
Register you and your rainbow family here: https://forms.gle/7hgVv5WeLXd4EmRa9