Pride Gala 2022 Announcement 3 (of many!) ACCESSIBLE EVENT – Please read!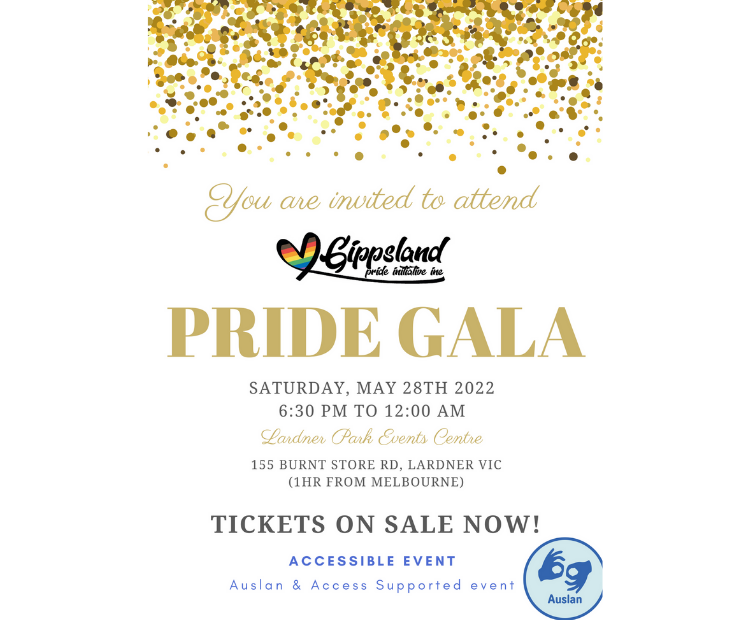 The Gippsland Pride Initiative Inc. Committee are determined to be a part of normalising events that are accessible for ALL.
With some wonderful feedback recieved recently (Thank you Ayesha) we have taken a number of steps to improve and ensure accessibility for all to attend and participate in this evening.
1. FINANCIAL ACCESSIBILITY
We know that accessing NDIS supports for a social event can be a logistical challenge for eligible participants. Also that not all people who would benefit from aupport are NDIS funded.
We have in previous years offered concession, but in this return year, kept all tickets to cost given the challenges of these past few years. However $110 is still alot of money upfront, and Zip Pay or after pay options are not available to everyone. So we are pleased to advise:
A) We have both a Pay it Forward tickets and donation facilities in the ticketing platform, and provide randomly selected free tickets through our networks to those in hardship, closer to the event depending on the total donated. (We've had 3 donated and allocated already!)
B) Attendees requiring a payment plan for their ticket can email us at admin@gippslandpride.com
We will then generate an invoice with payment details for you if Zippay or purchasing via our platform is not achievable for you.
Tickets can be paid off over an agreed period prior to the event. Tickets will be issued on balance of payment and no interest or fees will apply.
SENSORY, ACCESS AND OTHER FACILITIES/ SUPPORTS:
1) We are introducing some improvements to our Gala event - in hopes that it is fully available to all. This includes large projector screens and AUSLAN interpreters as a standard should any one require it, this is prompted at ticket purchase too.
2) We also welcome your feedback for sensory and auditory access - we know for some, they may benefit from being positioned away from the speakers to prevent interference with hearing aids or sensory overload.
You can make any notes regarding your preferred adjustments when you purchase your ticket and this will be accommodated to the best of our ability when creating table charts and layout.
3) With the support of our friends at Wellways a Sensory 'Break Space' will be set up in the foyer, so that those needing pause or reprieve from the noise, crowds and lights, can take time they need in a separate, comfortable area. Tea and coffee will be set up here also.
4) We appreciate that even at celebratory social events, participants may be triggered or strained. Mental Health First Aiders will be available throughout the evening if you need support and will be introduced on opening.
5) Lardner Park exhibition Centre is a single level accessible venue with accessible seating, bathrooms, entries and exits.
6) Those with physical limitations can drive right up to the front entry.
7) Transport options are being arranged from across Gippsland. When this opens, those requiring lift or wheelchair access can specify this, and we will assist in appropriate transport options, just as easily as those attending on a bus.
These supports are only possible thanks to the voices of advocates like Ayesha, that help us learn and grow. Our sponsors and donor contributions are critical to enabling these actions, and we are so grateful for their support.
If you have any feedback or suggestions to help us make our 2022 Pride Gala equally accessible to all, we welcome you to email us admin@gippslandpride.com
TICKETS ARE LIMITED AND ON SALE NOW!
Get yours at www.gippslandpride.com